Before you download, please read the following:
1. These songs and the recordings are copyrighted and are the exclusive property of Flexible Head. Please listen and share, but show respect also.
2. We are very proud of our recorded material but you should come see us live for a true Flexible Head experience.
3. If you like our music, please visit the Contact page and let us know - tell us if you don't like it, too.
4. Please have fun when listening to Flexible Head.

* For a list of songs we have covered, click here for Cover Songs page.
Studio Recordings

Existential Girlfriend (the Rocen effect)
This one exposes the listener to the soft, romantic side of Jeff. It describes finding romance in a world that really pisses you off. The closest to a "love song" he's ever been.
Download
Lyrics
**This song was featured on the Punk and Junk Compilation - Parentally Advise This with groups like Madcap, The Travoltas, 8 Bucks Experiment, Holiday Road and many others. We have a few copies of this available for $5 (including shipping). Please contact us to purchase.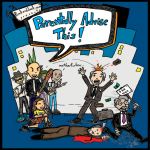 Not You
Definitely more of a punk song. Elements of HC and Metal in this one about people's tendency to try and fit you into their neat little pre-defined categories and our refusal to play along.
Download
Lyrics

Matthew's Song
Slightly more aggressive pop-punk song, inspired by Dan's friend Matt, who got dissed by his fiancé of 5 years - check the mad drum intro.
Download
Lyrics

Be The One
Just like it sounds, a nice bouncy Greenday/MxPx like punk rock love song. We kick off our live shows with this one. Play it for your punk grrl or guy today!
Download
Lyrics

Rough / Garage Versions...
...of some songs that we want to get to the studio, but haven't had time yet.

Whatever
This is our new favorite.
Download
Lyrics

Culture Pop
Like Not You, this one is very political. Can you tell how we feel?!?!
Download
Lyrics

No Friend of Mine
Perhaps Jeff was pissed at someone..
Download
Lyrics

Cotton Candie
We put this together in five minutes.
Download (the version we recorded sucks too much to put up here! Sorry!)
Lyrics

I Remember You (cover of Skid Row classic)
We cut this song down from six minutes to two and a half minutes...and had a lot of fun playing it! Always a crowd pleaser.
Download
Lyrics (You can find the lyrics on your own)


Lyrics to the rest of our songs (coming soon)
-